Scottsdale Airport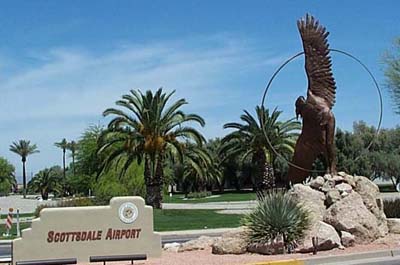 Located 7 miles north of Scottsdale's downtown area, Scottsdale Airport is an ideal choice for vacationers and business travelers. Similar to Chandler , Falcon , Deer Valley and Goodyear , Scottsdale Airport is a general aviation facility with no commuter or airline service, but is home to many corporate aircraft.
McCarthy Car Service provides private car services to Scottsdale Airport for general aviation and corporate aviation needs.
NOTE: While many car or limousine service require gratuities, McCarthy Car Service does not. Instead, we feel clients should judge if the service warrants a service gratuity and then decide an appropriate gratuity amount.
Service fees for Scottsdale Airport are scheduled by zip code within the greater Phoenix area.
Some clients want to be picked up at Scottsdale Airport and travel to local and interesting vacation or tourist areas. To help these clients, McCarthy Car Service will provide car services to the following cities
Florence- $120.00
Gila Bend - $125.00
Grand Canyon - $400.00
Maricopa - $60.00
Prescott- $240.00
Sedona- $270.00
Tucson- $180.00